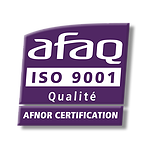 CERTIFICATION
ISO 9001 certified since 2000, we have implemented a quality system to meet the requirements of the current norms and regulations, but also to adapt to the specific requirements of each client.
Engaged in a process of continuous improvement, we seek to develop our systems regularly in order to meet the requirements of our clients in terms of quality, cost and deadlines.
Today we are in the process of obtaining the EN 9100 certification.